The Ministry of Health approves the list of Real-time PCR testing techniques for coronavirus for Polyclinic – Medical Laboratory and Diagnostic Center – Medical Diag Center.
List of units authorized by the Ministry of Health to conduct confirmed COVID-19 testing (updated to December 30, 2021)
Click the link below to view the List:
https://vncdc.gov.vn/danh-sach-cac-don-vi-da-duoc-bo-y-te-cho-phep-thuc-hien-xet-nghiem-khang-dinh-covid-19-cap-nhat-den-ngay-30122021-nd16767.html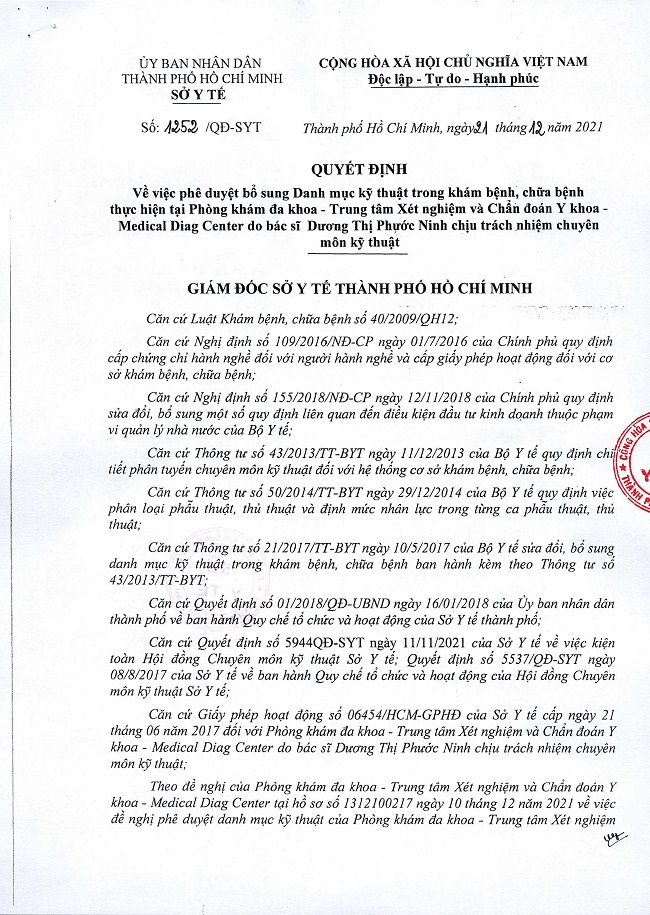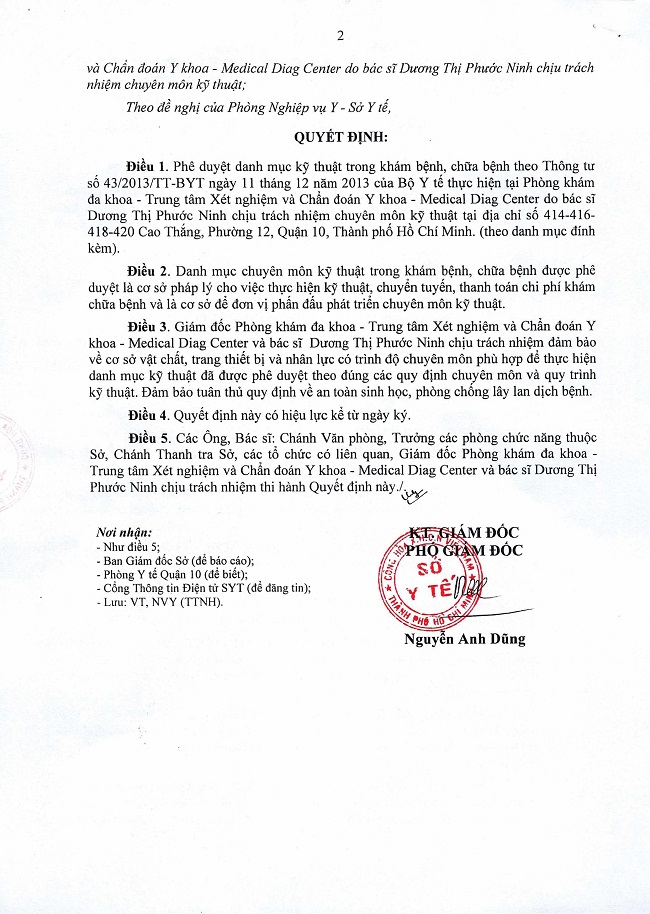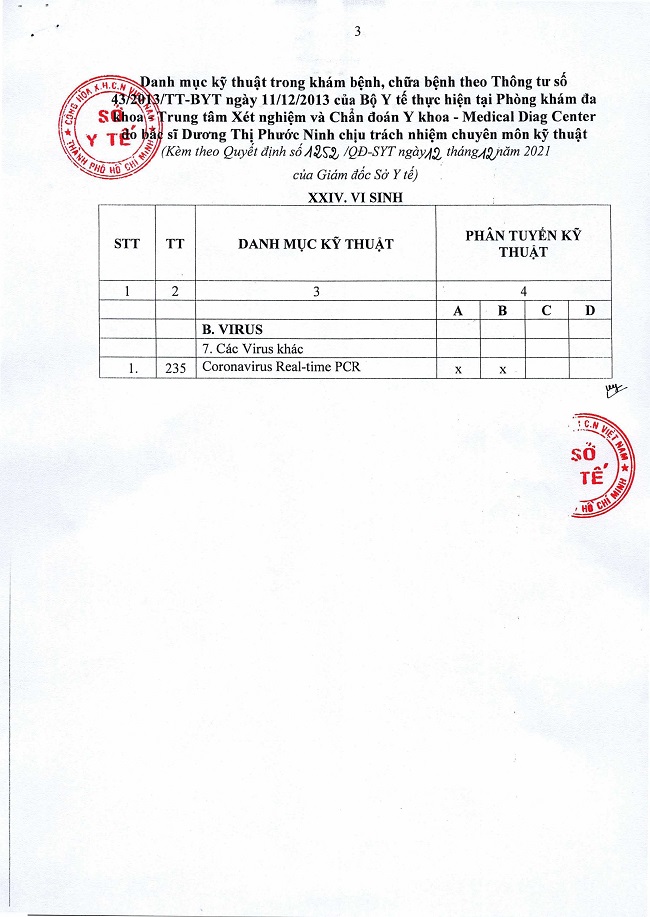 Based on the assessment of SARS-Cov-2 virus testing capacity dated 21/07/2021 of the Pasteur Institute in Ho Chi Minh City with the general clinic – Center for Medical Testing and Diagnosis – Medical Diag Center with For the remedial dossier, the Pasteur Institute of Ho Chi Minh City granted a certificate of testing capacity to confirm the SARS-CoV-2 virus by real-time RT-PCR technique for Polyclinic – Medical Laboratory and Diagnostic Center – Medical Diag Center.
Diag Laboratories is responsible for implementing and maintaining confirmed testing capacity for the SARS-CoV-2 virus and is subject to annual periodic supervision by the Pasteur Institute in Ho Chi Minh City. We are currently licensed not only 1 but also 2 types of certificates, PCR Confirmation and PCR Screening.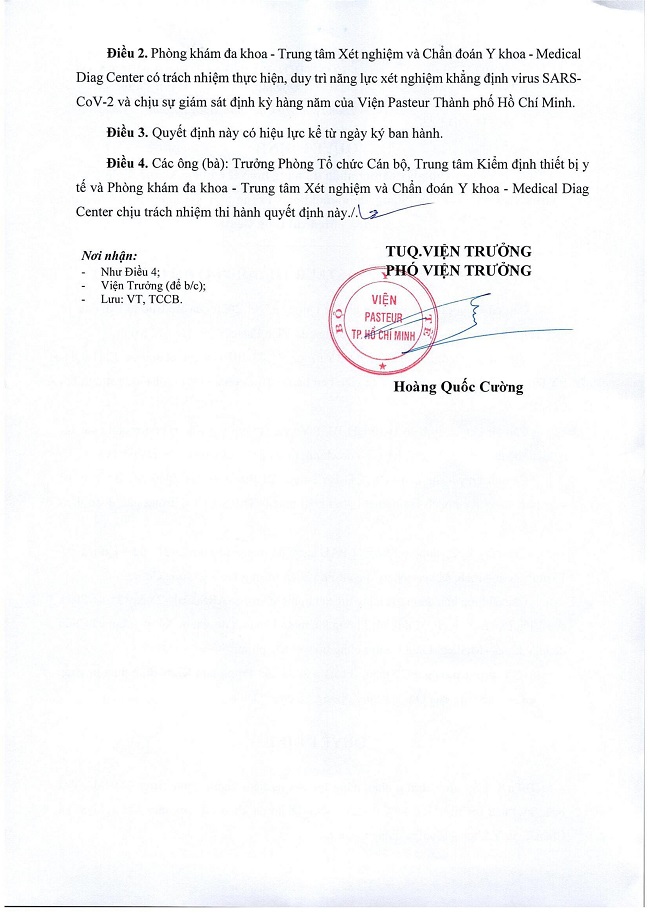 As one of the testing centers that constantly upgrade the Lab with advanced and international standard equipment and at the present time, we have been using the most modern testing equipment in Southeast Asia, which is the newest and largest capacity system with high throughput robotics.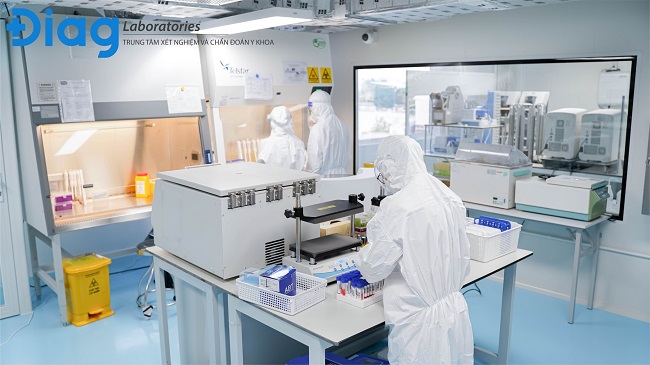 This fully automatic in-line RT-PCR real-time molecular biology testing system helps shorten the testing process and returns results faster, with absolute accuracy.
Customer performs single RT-PCR test with COVID test price of 550,000 VND/sample

Customers perform RT-PCR tests for COVID-19 with a fee of VND 990,000/sample (inclusive of 5)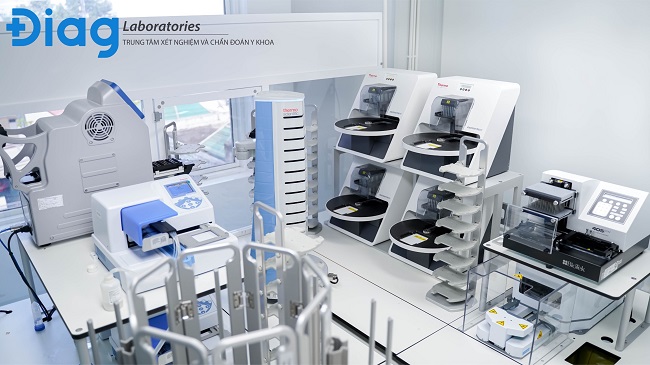 In addition, with coverage throughout the districts of Ho Chi Minh City and neighboring provinces and continuing to expand throughout the country, we are proud to respond quickly to the testing needs in the industry. health protection and prevention of Covid – 19 of customers. See the nearest branch here.
We always listen to each customer's feedback in order to improve health services, as well as the initial goal we have set and completed is to build more than 22 facilities during 2 years with the desire to create convenience. in health and medical care for customers. Up to now, we have also completed the upgrade of the laboratory with the best and unique machine. The sincere and timely comments of customers are the premise for Diag to continue to improve the service better.