Where can I get a monthly Covid test in Bien Hoa? Customers wishing to test at home or take samples at any branch of Diag Laboratories, please register via the form below:
https://forms.gle/vHb3Wy3dcMmoYirN9
Testing Service at Bien Hoa 
Address: F240 – 241 Vo Thi Sau Street, Quarter 7, Thong Nhat Ward, Bien Hoa City, Dong Nai Province
Operating hours: 7:00 AM – 5:00 PM
Address: 45 – 47 Dong Khoi Street, Tam Hoa Ward, Bien Hoa City, Dong Nai Province
Operating hours: 7:00 AM – 5:00 PM
Home Testing Service At Bien Hoa
Customers register for the test schedule at the registration form

Diag Laboratories staff confirm appointments

The staff takes samples to the testing address at the request of the customer

Customers lookup online results on Diag website

The doctor consults the results and the customer receives the results on demand on email, hard copy results delivered to home)
"Understanding your own Covid-19 antibody levels to protect your health and limit unwanted risks is essential"
---
1. Purpose of Antibody Test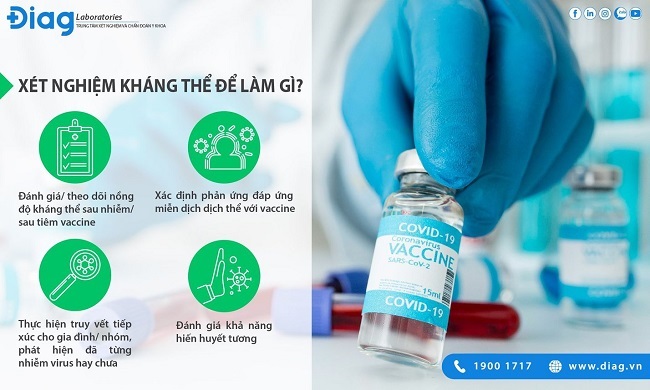 People who have been infected with Covid-19 and people who have received the Covid-19 vaccine will produce antibodies to prevent the disease. However, to detect whether the body really produces antibodies against the Sars-CoV-2 virus and whether the body has achieved immunity to this virus, it should be assessed through an antibody test.
2. Who Should Perform Antibody Testing?
For those who have not been diagnosed with Covid-19
When you are infected with the virus that causes Covid-19, you may or may not have symptoms, and after a while, your body will make antibodies against the virus. You have never been diagnosed with Covid-19 and want to know if you have been exposed to the virus before?
The COVID antibody test provides a numerical value that indicates whether you have been previously infected and if Covid-19 antibodies are present in your body and determine your current immunity.
For those who have been infected with Covid 19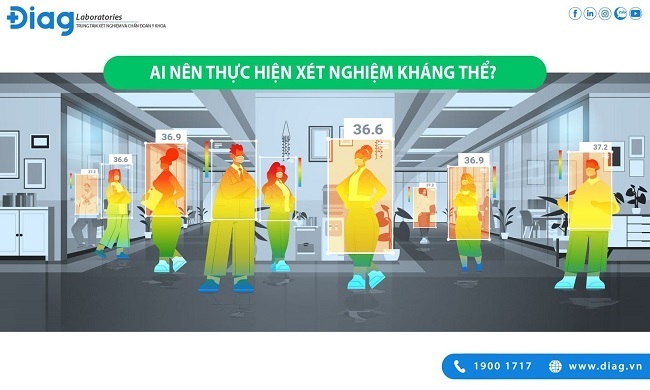 About 1 week after infection with the SARS-CoV-2 virus, patients can recover because the immune system has created effective antibodies to fight the virus. Information about the antibodies produced will be stored, so that the next time, if this virus invades, the body can immediately have a weapon against it without having to wait long.
Testing for coronavirus antibodies to find a suitable and effective treatment solution with the serum of people who have recovered from infection.
For those who have been vaccinated against Covid-19
The COVID antibody test results play an important role in determining the level of antibody status after vaccination, assessing whether the injector's body is immune to the virus. The purpose of the COVID antibody test is to assist in the assessment of the body's immune response to the protein to SARS-CoV-2.
3. How Much Covid Antibodies Is Enough?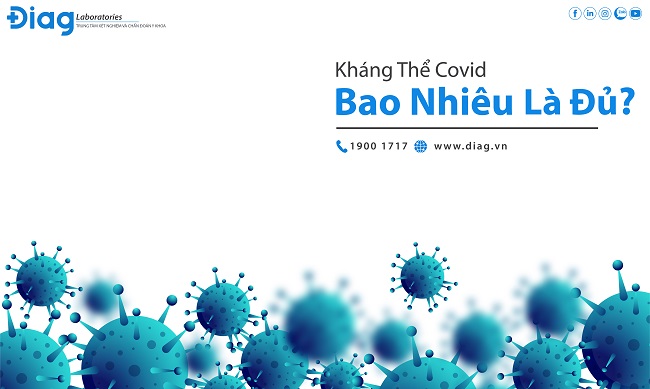 Antibodies form quite soon after the patient has been exposed to the SARS-CoV-2 virus and they are detected in the blood about 2 weeks later, antibodies gradually increase and persist for a long time in the body to store and against the virus for subsequent infections.
However, over time, the stored antibodies will degrade according to each subject's condition. For example, in young people with good health, the quantification of stored antibodies will have a longer time in the body to help increase the ability to fight the COVID-19 virus.
In the case of people with a weak immune system such as cancer patients during treatment, people using immunosuppressive drugs, the elderly, etc., the protective ability of antibodies is easily reduced. 
So how much COVID-19 antibodies is enough? People who have never been infected with the SARS-CoV-2 virus do not produce antibodies. Therefore, the antibody quantitative test will be negative. For people who have been exposed to the SARS-CoV-2 virus and have been vaccinated with the COVID-19 vaccine, antibody quantification is determined based on a high or low antibody index, eg 100 U/mL.
Test results for antibody levels are divided into two categories.
Positive (≥ 50 AU/mL): Immune response to SARS-CoV-2 virus

Negative (< 50 AU/mL): No immune response to SARS-CoV-2 virus
How much COVID antibody is enough? At present, it is not possible to determine how much COVID-19 antibody concentration is enough in the body. In addition to the antibody quantification results, the diagnostic doctor to make a conclusion is also based on other factors such as the person's medical history, liver, kidney, lung, cardiovascular, weight, etc.
Thus, the COVID antibody test helps to reflect a part of the body's immunity, and the exact results that indicate that the COVID antibody index is enough are no longer based on the totality of the patient's factors.
4. How Much Does Covid Antibody Test Cost?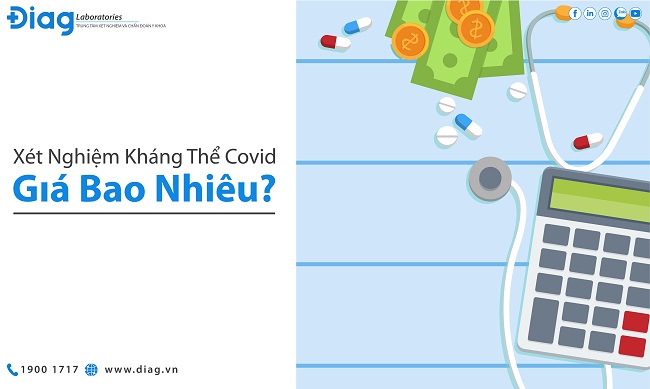 How much does a covid antibody test cost? The cost of performing a blood test for COVID antibodies may vary depending on the services at medical facilities including testing equipment, origin, manufacturer, etc. Therefore, antibody testing is expensive. How much will not be the same in the base? Before deciding to register for an antibody test, should we consult the services that are included in the package, or are there any additional costs?
At Diag Laboratories, we perform antibody tests by analysis on Abbott – Alinity automated chemiluminescence immunoassay (CMIA) with a sensitivity of over 90% and a cost of 300,000 VND/person (not including the cost of sampling at home). Test results will be returned 2 hours after completing the sample collection.
5. When Should Antibody Tests Be Performed?
When is it appropriate to test for COVID antibodies after vaccination? According to experts, the appropriate time to perform antibody tests for each subject and time is as follows:
For people who have received the first dose of COVID-19 vaccine: 28 days after vaccination.

For people who have received the 2nd dose of COVID-19 vaccine: 14 to 28 days after vaccination.

For people after being infected with the SARS-CoV-2 virus: the time is 7 to 15 days after infection.
6. Where is the COVID Antibody Test?
Up to now, antibody testing has not been carried out on a large scale, mainly at some central hospitals designated to test patients who have been infected with or are being treated for COVID-19 before being discharged. institute.
Currently, we have deployed COVID antibody testing service in HCM and neighboring provinces under the branch of Diag Laboratories. You can refer to our 20 branches at the following link:
https://www.diag.vn/en/find-branch
Customers wishing to perform testing at Bien Hoa branch, please fill in the registration form below, our staff will confirm again to support consultation and schedule an appointment for you.
https://forms.gle/vHb3Wy3dcMmoYirN9
At the same time, customers can also choose from one of our services such as home COVID antibody testing, home PCR testing, and general health testing services.
We have over 23 years of experience in medical testing and diagnostics and have developed more than 20 branches spread across Ho Chi Minh districts and neighboring provinces. Coming to Diag, customers will be satisfied with the large scale, modern, luxurious, polite space and attentive, professional, and dedicated service from experienced specialists. In particular, the equipment of Diag laboratory comes from famous, modern, and international brands such as Abbott, Roche, Sysmex, Thermo Fisher, Arkray.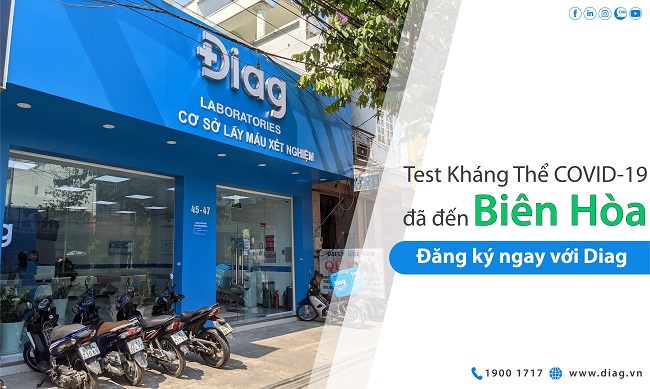 Contact Info:
Diag Laboratories
Head office: 414-420 Cao Thang Street, Ward 12, District 10, Ho Chi Minh City
Branch: https://www.diag.vn/en/find-branch