To ensure compliance with 5K regulations and safety in the prevention of COVID-19 of the Department of Health, customers who have needs, please fill in the registration form for medical services for businesses during the epidemic season below. , our staff will contact you to confirm the information and provide advice.
Diag is deploying medical service packages for businesses during the epidemic season to meet the needs of home care and ensure health safety for each individual in the context of the current potential risk of infection.
Service packages include:
---
1. PCR/Quick Test Service At Enterprise
In addition to the annual health care service, Diag Laboratories also provides PCR and quick test services for companies according to the government's 5K message and provides on-site medical care for businesses.
When coming to our PCR/quick test service, employees will be allocated time to perform quick tests to meet the needs of distance and create the best conditions so as not to affect the work progress as well as company performance.
Not only ensuring the safety of employees during the epidemic season, Diag always has preferential rates for businesses that register for PCR testing and quick tests to be conducted at the company to minimize costs and limit costs. employee travel time.
2. PCR/Quick Test Service At Diag Branches
With the motto of flexible supply and convenience for customers when coming to Diag Laboratories' medical care services, we have set up more than 20 branches spread throughout Ho Chi Minh City and neighboring provinces. Therefore, it only takes about 5 – 15 minutes for you to stop by one of our facilities to perform the covid test sample service on the way to work.
Our staff is ready to arrange and stream a quick test schedule for each individual of your business at the branches to accompany the implementation of social distancing, jointly repelling risks throughout the epidemic season.
Choosing a rapid PCR/Test testing service at Diag branches will limit the current situation of centralized quick testing, avoiding community spread. Medical staff when taking samples always ensure safety, meet infection prevention standards such as changing gloves, and make medical declarations continuously during the working process.
3. PCR/Quick Test Sampling Service For Employees At Home
Faced with the complicated situation of the current epidemic as well as potential threats from emerging strains, Diag deploys PCR/quick test sampling service for employees at home with the desire to cooperate with businesses in proactively responding to the pandemic throughout all stages.
The advantage of the Covid-19 home test service in Ho Chi Minh City is that it is not necessary for staff to perform rapid tests or centralized PCR tests, without waiting time, crowded queues leading to cross-infection.
Customers are always consulted in detail about the covid test service at home and answered all questions when required. Test results are returned quickly in two forms: looking up results online and receiving a certificate certified by a medical facility including a signature and a red seal.
4. Healthcare Services For F0
We get a lot of questions about how to treat F0 at home and how to recognize asymptomatic F0? What should F0 isolate at home do to avoid cross-infection with family members and be able to completely recover from the disease?
When performing F0 care at home, each of us has been participating in disease prevention. Understanding the importance of ensuring nutritional needs, increasing resistance for each F0 patient self-treating at home, and worrying about how to take care of F0 & F1 quarantine at home, Diag Laboratories is deploying the home health care package for F0 includes the following 3 activities:
Doctor service to monitor & consult health status remotely

Home testing services (including PCR tests, blood tests …)

Medicines prescribed by Dr. diagnostic exams and additional health monitoring devices (optional)
The above package does NOT include:
Emergency transportation service

Hospital beds or other medical facilities

Direct medical examination at Diag
4.1 Remote Health Consultation Service
Our doctor calls to check the health of each patient twice a day during the first 14 days from the time of symptoms (depending on the actual condition of the patient, the doctor can agree to a number of calls per day with patient consent).

During each call, the doctor visits monitor the health status, records health indicators in order to give instructions and advice appropriate to the patient's condition.

The doctor orders a package test and other tests (if necessary). The doctor analyzes the test results and gives the patient a treatment plan.

The doctor recognizes signs of aggravation (if any) and prescribes hospitalization.

The doctor prescribes the medicine according to the patient's condition.

In addition to the doctor's fixed calls, patients can actively contact the hotline for answers to questions arising during office hours or emergencies outside of office hours.
4.2 Home Testing Service
Home testing service includes 4 packages corresponding to 4 stages of the disease including screening blood test, RT-PCR test, antibody test to assess, monitor status, and recovery ability of the patient during the course of the infection.

| | | | |
| --- | --- | --- | --- |
| No. | Test group name | Estimated implementation time** | Category Description |
| 1 | Initial Screening | Day 1 – Day 5 after infection | A group of general screening tests to determine the patient's initial condition based on clinical symptoms + assist doctors in making treatment decisions |
| 2 | Prognostics & Management Profile | Day 5 – Day 10 after infection | A group of tests to monitor the progress of the disease, to determine the patient's ability to respond to the treatment process (if the results of these tests are abnormal, the patient needs urgent hospitalization) |
| 3 | Recovery | Day 10 – Day 15 after infection | The test team assesses the patient's level of recovery |
| 4 | Antibodies | After 4 weeks | Test to determine the number of antibodies of patients after infection or vaccination |
* Actual testing time is based on doctor's orders.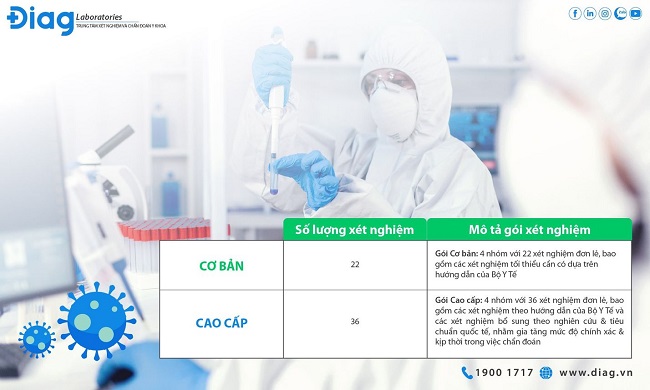 4.3 Medicines & Health Monitoring Devices
Medicines and health monitoring equipment will be delivered to the patient's home by Diag during the first home test collection (Initial Screening test group). Patients use drugs and health monitoring devices throughout the treatment period as directed and prescribed by the doctor.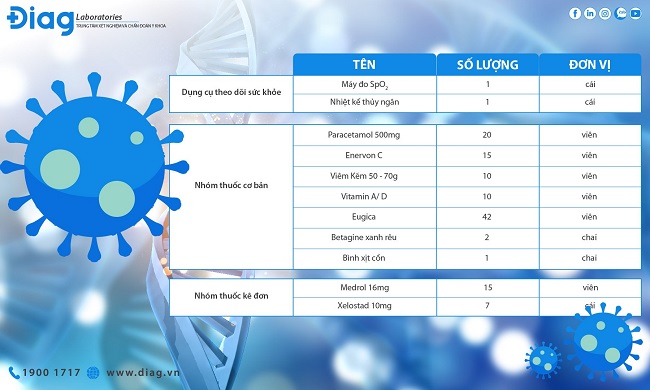 5. Online Health Consultation Service For Employees
Most businesses want to take care of employees in special cases with uninfected background diseases, ever infected or in a medical condition that requires a thorough consultation and regular visits from doctors. expertise to ensure the health and avoid complications that often occur during work at the company such as working remotely, at the company, or on a business trip, but have not found an online health care trust service yet.
We provide 24-hour online health consulting services for employees throughout the epidemic period through video calls or chat and telephone consultations for customers. The service is performed by a team of doctors who consult online 24/7 with high expertise and experience in the field of medical health care.
The online health consultation service provided by Diag Laboratories can be considered as a superior healthcare solution to help patients limit movement and avoid the risk of infection, especially in cases located in isolated areas. or enforce social distancing. Wherever your employees are, just by remote contact, our online health consultation service always covers the health needs of your employees.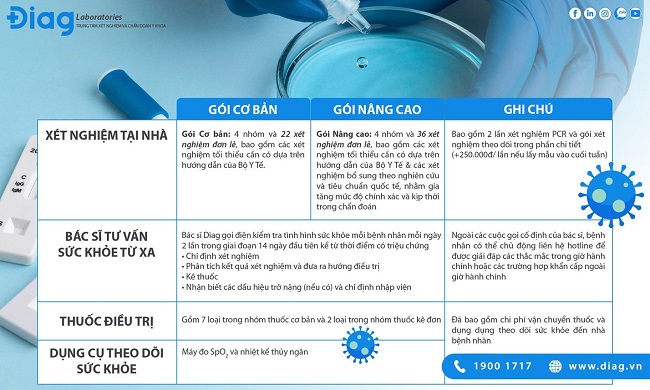 6. Nursing Care Service at Home/Online
Stemming from actual needs during the epidemic season, our nursing care service at home or online ensures to bring customers the most convenience and comfort.
Accompanying healthcare services for 23 years in Vietnam, besides a team of experienced doctors and nurses, we always select nurses and nurses with high professional qualifications in recruitment. Before receiving the service of hiring a nurse to take care of patients at home, you will receive thoughtful and dedicated advice to learn about your medical condition, factors, and activities in the family to help choose staff. suitable nursing.
In addition, you can also use Diag's telehealth service for timely health care, saving costs and travel time. Online health care services can be considered as the optimal solution for patients with underlying medical conditions and chronic diseases in the context of needing to limit community spread.
7. Training Service For Company About Health Care For F0
Training for the company on healthcare for F0 is necessary now and in the future, because we are not only dealing with them in the present time. Variants can come at any time, epidemics can break out if we are subjective, and neglect prevention. Not to mention the fact that F0 has no symptoms, which means anyone can be F0.
We are willing to accompany businesses in proactively training F0 health care at home for each employee for economic development together. Contact hotline 1900 1717, the operator will advise you in detail about F0 home care service information for you.
8. Training Service For Company Employees About Covid
"Things to know about covid 19 to protect yourself and others" according to government and Ministry of Health information include kiến thức đúng về COVID-19.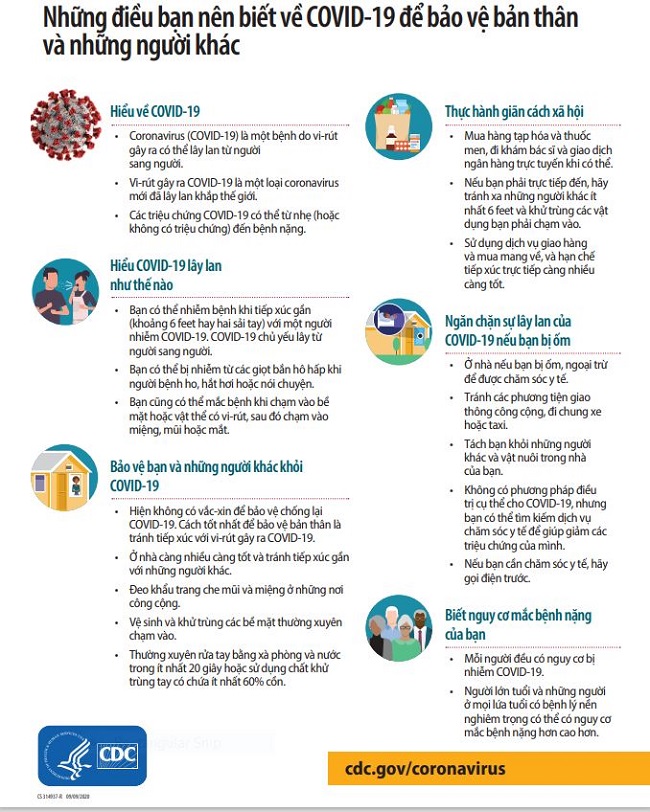 Equipping yourself with "What you need to know about covid 19 to protect yourself and others" is enough but not absolute.
In each case, each state, condition, and living environment, we have different ways of protecting, caring, and preventing such as handling when exposed to F0, handling procedures when there is the isolation of F0 and F0. How many days at home? How to take care of f1 at home, what to eat with covid? covid emergency hotline, home prescription for covid treatment in accordance with the level of infection.
Diag Laboratories' Covid Laboratories training service will answer all questions in the most detail for each specific case to provide appropriate and thorough care and prevention.
9. Vaccination service
In order to speed up the vaccination rate and meet the needs of those who are not in priority cases or actively vaccinate the service, when registering for the covid 19 vaccination service at Diag Laboratories for The company's staff, our support departments will arrange the vaccination schedule and reasonable threading for each specific case.
Where to get the covid vaccine? For businesses