Table of Contents
---
Sign Up for Covid-19 Testing
https://www.diag.vn/en/covid-test-registration
Diag Laboratories belives that when it comes to diagnosing Covid-19 no shortcuts can be taken in the persuit of a precision test result. To that end we have always used the highest quality international chemicals and robotic driven processes in our Covid-19 PCR laboratory. We perform these tests on some of the most state of the art laboratory instruments available worldwide. We are saddened by recent reports noting the wide use of lower quality chemicals in other Vietnamese health care facilities – materials which have been rejected by American and European health regulators. Over the past month, we have seen many cases where Diag identified Covid in an individual and another healthcare facility did not. Diag believes firmly in the quality of its laboratory and understands that many cases of these cases arise from the use of substandard chemicals and processes by other healthcare facilities. To this end, we thought it would be helpful to give you an insight into some of the core materials and technologies used at Diag.
1.

Does Diag Utilize High Quality Laboratory Chemicals?
Diag puts heavy efforts into every stage of COVID-19 testing. From a starting point, the in-lab diagnostic chemicals used by Diag are sourced only from global industry leaders known for the highest standards. Currently Diag utilizes two core Covid-19 detection PCR chemicals:
1) TaqPath Covid-19 CE-IVD by Thermo Fisher Scientific, USA (3 gene)
2) Alinity M Sars-CoV-2 CE-IVD by Abbott Molecular Inc., USA (2 gene)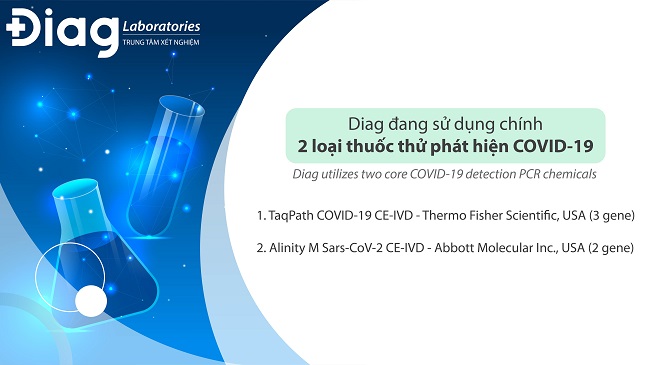 These testing chemicals have passed the most rigorous of international quality standards from both American and European regulators and are fully approved by the Vietnamese government. Diag continues to monitor the quality and efficacy of these reagents as emerging mutations appear. This is important as if the laboratory continues to utilize the same chemicals introduced in early 2020 for Covid testing, subsequent mutations may create the risk that the older reagents could fail to detect Covid. Diag's lab testing chemicals all identify multiple Covid genes which reduces the risk that there will be a failure to detect Covid-19. Along with these chemicals, Diag uses many unique and specialized plastics, liquid transfer mechanisms, and other non-core components which add to the precision and accuracy of our laboratory.
2. Does Diag Utilize High Quality Testing Machines?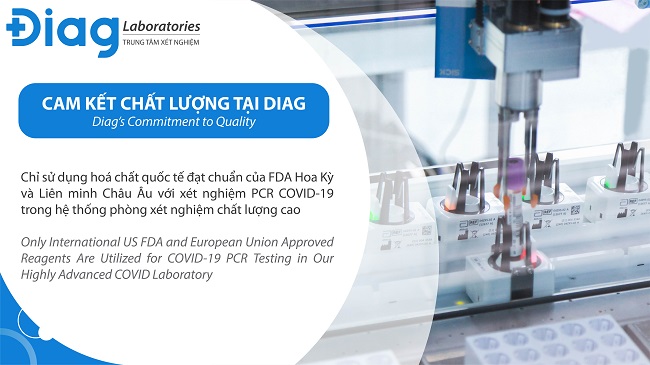 Diag uses only the most state of the art in robotics and diagnostics technology for your testing needs. We are currently finishing a core testing system which can process thousands of tests daily with minimal human intervention. In this robotics system, your testing sample is moved around by advanced robots and precision transferred through multiple complex stages of the testing process. This laboratory is unique in Vietnam and emulates the Covid testing protocols and technologies found in the United Kingdom National Health Service. Many smaller health care facilities in Vietnam utilize a high degree of human labor in their Covid testing processes. In using human labor on large volumes of samples, there is always a B risk of occasional error. Through Diag's investment in robotics this risk is substantially reduced.
3. In What Type of Facility Does Diag Perform Its Covid Tests?
Covid-19 is a very infectious virus. To ensure the highest quality and safety standards, Diag designed and constructed a Level Two Plus biosafety facility. This facility is engineered to prevent viral infection as well as cross contamination between samples. This reduces the risk of one individual sample contaminating that of another patient and creating false positive results. Our facility is equiped with different air pressure areas, control doors and clean room features to ensure lower risks of contamination and higher testing accuracy. We believe that the security design of this facility is unique amongst Covid laboratories in Vietnam.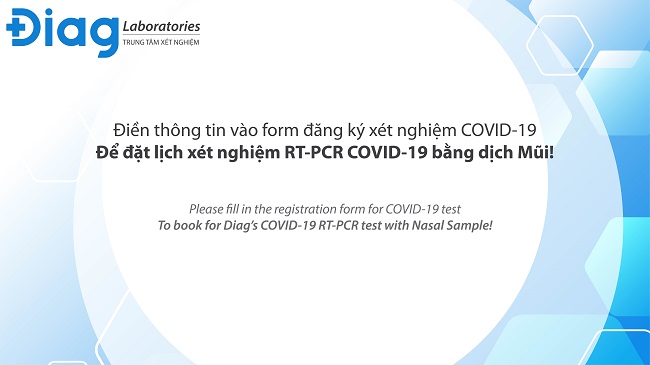 To ensure compliance with 5K regulations and safety in the prevention of COVID-19, please fill in the registration form for COVID-19 test to book for Diag's COVID-19 RT-PCR test with Nasal Sample. With this new RT-PCR Nasal sample collection method, we ensure that our customer exprience a gentle PCR sampling process, avoid painful feeling cause by COVID-19 RT-PCR testing experience.
Registration link: https://www.diag.vn/en/covid-test-registration